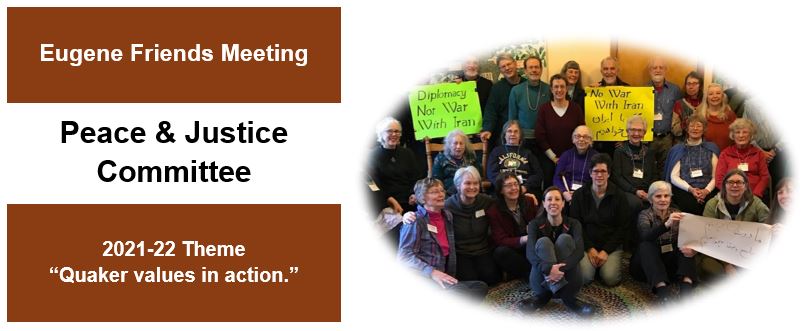 ---
FCNL Advocacy Teams: The Friends Committee on National Legislation has created a nation-wide network of Advocacy Teams to engage Friends and peace activists across the country in coordinated efforts to promote FCNL's legislative priorities. We have five of these teams in Oregon, including one in Eugene/Springfield which includes members from both Eugene Friends Meeting and Eugene Friends Church. FCNL's priority for this year is ending US complicity in the Saudi-led war in Yemen. If you are interested in learning more about, and possibly joining this team contact the Peace and Justice Committee Clerk.
---
The Peace and Justice Committee supports, seasons,and assists Friends' leadings to take action in our fellowship and the larger community regarding matters of peace, justice, care for the Earth, resource stewardship, and sustainability.
---
The priorities of the Peace and Justice Committee are aligned with Quaker testimonies and coordinated with the wider Quaker advocacy groups such as the American Friends Service Committee (AFSC), Friends Committee on National Legislation (FCNL) and Quaker Earthcare Witness (QEW).
We encourage members and attenders to:
Write regularly to elected representatives on issues of concern.
Participate with like-minded organizations and individuals in demonstrations on behalf of our priorities (see list below).
Participate in activities to provide shelter, food and basic services to the homeless (see list below).
Participate in presentations and book discussions organized by this committee. Learn more.
---
Essays from EFM
Peace Corps Iran Association

Advocacy Bulletin

Editor, Paul B., EFM Attender
---
Go to the EFM Earthcare Webpage here.
Updated 11/5/2022